The #QuietYA movement is a movement to celebrate all the YA books that have fallen under the radar. It's a chance to celebrate YA reads that while might not be extremely popular, do mean an awful lot to you and so deserve some of the spotlight.
So here are some of my favourite #QuietYA reads!
My Name is Mina by David Almond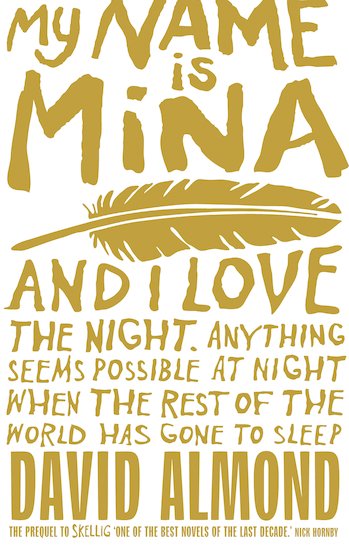 This is such a fantastic book - it's been one of my favourites for years. Mina has such a distinct voice and will always be one of my favourite characters. Just - I love everything about this book. The story, Mina and her thoughts, everything will really speak to you, and it's a book that should be read by every young teen, and someone who's young at heart. While I recommend reading the book this is the prequel to 'Skellig', first, so you know a bit more about Mina, I guarantee that this will be a quaint, fast favourite.
Here's my review.
Heart-Shaped Bruise by Tanya Byrne
This is a really captivating story from the villain's prospective. A crime is committed, and we hear the story through the voice of Emily, the one who committed the crime, from the psychiatric unit of a Young Offenders institution. Emily's voice and the way the mystery is revealed will keep you hooked until the last page. This is a must read for anyone who loves interesting narrators and mysteries.
Here's my review.
The Things We Did for Love by Natasha Farrant
This is such a beautiful book, it has romance, history, wonderful characters and a story that means it'll find a place in your heart and and on your favourites shelf as soon as you finish it. It's interesting, well done and beautiful. I can't recommend this book enough - it's a really well crafted novel and really needs to be read by anyone that likes historical fiction, romances and just a well-written book.
Here's my review.
Dear Dylan by Siobhan Curham
This is a lovely book about romance, friendship and family. It's so well done, it''ll really make an impact, and make you think. It's full of really believable characters, and it's a really original story too - told via emails between a fan and the actor she loves, and I love everything about this book, and it should be read by everyone! A quick read that you'll love.
Here's my review.
Because You'll Never Meet Me by Leah Thomas
This book demands to be read - it's a sci-fi contemporary book made up of letters between two unique teenage boys, Ollie and Moritz. Both boys are different, but will capture your heart for so many reasons. This book will make you think about things like perception, life and friendship. But will also become a real favourite book. I could talk about it all day - It's really, really wonderful!
Here's my review!
So those are my favourite Quiet YA reads? Do you agree? What are your favourite Quiet YA reads? Let me know in the comments!
I'm also lucky enough to host a Quiet YA giveaway, so here you go! Get entering, it's a great prize!
US Only, 13+ with parents/guardian permission